Man murdered in 'street robbery' stabbing in Hendon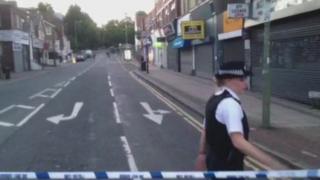 A man has been stabbed to death during a suspected street robbery in north-west London.
Police have arrested two men and two girls after the attack in Hendon on Thursday afternoon.
Paramedics and police were called to the scene at 16:45 BST but the 38-year-old man was pronounced dead just under an hour later.
Officers arrested two men aged 19 and 20 and two girls aged 16 and 17, all of whom remain in custody.
The victim's next of kin have been informed although police are not naming him at the moment.