Hackney v Tottenham Turks: Getting caught up in a gang feud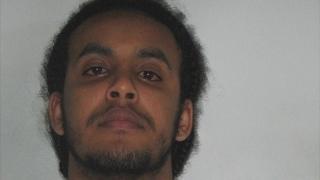 Two men have been jailed for life for murdering the leader of one of north London's most notorious gangs. One innocent family caught up in the feud now hope the conclusion of the trial will mean the end of their own nightmare.
In the early hours of 22 April last year, Rachel Bublil and her husband were asleep at home with their six children when they were woken by a loud bang and scream.
Thinking someone was trying to break into their home, they ran downstairs where they saw a man armed with a dustbin lid trying to break their back door in.
But this was not a burglar. He was someone screaming: "Help, I've been shot".
Ms Bublil and her husband decided to let the man in - a decision they were later to regret.
He was Samuel Zerei, a 21-year-old who last Friday was found guilty of murdering Zafer Eren - the leader of one of the most notorious gangs in London, the Tottenham Turks.
He had been the getaway driver but was running away from his accomplice Jamie Marsh-Smith, an assassin hired by the Hackney Turks gang who had already killed Eren and was now attempting to kill Zerei because he feared he was going to "blab".
After the Bublils closed the door, Marsh-Smith - known as Freddy after the character from the Nightmare on Elm Street films - also attempted to break in.
However, he left once the Bublils said they were on the phone to the police. Last week he was also jailed for life for murdering Mr Eren.
Opening the door to Zerei has had a massive impact on the Bublils' lives.
"Our house became the last crime scene and so we had police all over the place - it was no longer our home," said Mrs Bublil.
"There were puddles of blood on the floor which my children had to step over."
This alone meant two of her children, aged three and five, have subsequently had therapy.
---
Feud's violent, bloody past
The Tottenham Turks have been involved in a violent feud with another mainly Turkish gang, the Hackney Turks, since at least 2009
The feud's origins are uncertain, but appear to have come to a head after a fight in a club in January 2009 during which Kemal Armagan, a Hackney Turk, was badly beaten up
Since then, there have been numerous attempted murders, beatings, arson attacks and shootings
Ahmet Paytak was shot dead in March 2009 at a shop allegedly run by a Tottenham Turk member
Oktay Erbasli, a Tottenham Turk member, was shot and killed while driving a car hired by Kemal Eren in October 2009
Cem Duzgun, a Hackney Turk member, was shot dead later that month
Ali Armagan, a Hackney Turk, was shot dead at Turnpike Lane in February 2012
Kemal Eren, described in a previous court case as a Tottenham Turk, was shot and seriously injured in Elbistan, Turkey, in 2012
Zafer Eren was shot dead in Southgate in April 2013
In the initial aftermath, she said her neighbours, friends, school teachers and her husband's work colleagues all thought they had something to do with the gang. After all, they believed, why else would Zerei have run to their home?
Her children were no longer invited to birthday parties and she claims her husband's colleagues started to not trust him.
Yet the family did not have any gang involvement and were just unfortunate to live near a park where Marsh-Smith had tried to shoot Zerei.
As time has passed, the true impact of the incident has taken hold.
"Two of my children sleep in the same bed as me now, and one of us (herself or her husband) is always awake through the night," says Mrs Bublil.
All of them now take self-defence classes and her eldest child is no longer allowed to go anywhere without an adult.
Mrs Bublil said she was asked by the head teacher of her children's school to stand down as a governor while the case was going through the courts. Now that it has concluded she cannot still return, though, as elections are only held once every four years.
When the case came to trial, neither Mrs Bublil or her husband wanted to give evidence in court. They did not wish to come face-to-face with Zerei or Marsh-Smith again or to relive the nightmare.
Instead, they prepared a signed written statement which outlined everything from their perspective. They had letters from a doctor and a solicitor saying they were suffering from stress and not fit to attend court.
However, the judge insisted they should give evidence and issued an arrest warrant for them when they failed to attend court.
"The police's involvement is what shocked me the most," she said.
"We were very fragile and wanted them (the police) to leave us alone.
"They were coming to our house on a daily basis, arriving at any time. They made our nanny let them in so that they could see if we were home.
"I felt they had gotten confused between the criminals and the witnesses."
The Metropolitan Police confirmed they attended the Bublils' home as a result of the warrant but said the couple were never arrested.
In the end the couple did give evidence, although the experience was unpleasant and they felt uncomfortable their address was often read out in court.
Mrs Bublil said she would have acted differently when Zerei knocked on her door if she knew then what she knew now.
"We did our human duty and helped him but we wouldn't do it again," she says.
"Next time, I'd barricade the door and protect the children and home. This has been like a shadow over ourselves.
"It's the people who see the murders who are the ones that need protection."