Five sought after second Dorchester Hotel smash and grab raid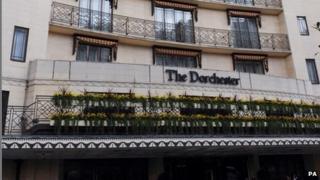 Officers investigating the second smash and grab robbery in a month at a central London hotel, say they are looking for five more suspects.
Police said they had recovered most of the watches and jewellery stolen from the raid at the Dorchester Hotel, in Mayfair, on Thursday.
Three men, of a group of six, smashed their way through the hotel's front door at about 02:20 BST before fleeing on waiting mopeds.
Four people have been arrested so far.
Three men, aged 66, 27 and 23, and a woman aged 46, were arrested in King's Cross over the robbery on Thursday and taken to a central London police station.
The 23-year-old man was held on suspicion of conspiracy to rob and the other three on suspicion of conspiracy to handle stolen goods.
A Met Police spokesmen said detectives were looking for a further five people in connection with the raid.
Links 'investigated'
Display cabinets were smashed and some items were stolen in the raid, Scotland Yard said.
In addition to the jewellery and watches, three mopeds were also seized by police at the address in King's Cross.
The hotel was targeted in another smash and grab raid on 10 June in what police called a "well planned" robbery.
In that raid, three men from a group of six who had arrived on mopeds entered the hotel's boutique and smashed jewellery and watch cabinets before taking some items and fleeing.
The Met said it was trying to establish whether there was a link between the two.