Richard Nyawanda Otunga jailed for wife's murder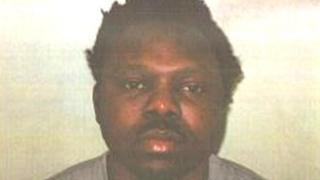 A "jealous" husband who stabbed his wife more than 30 times has been jailed for life for her murder.
Richard Nyawanda Otunga, 37, from Northolt, killed Shamim Gabriel, 33, as he thought she was having affairs with other men, the Met Police said.
He married the victim in 2003 and the pair had a daughter together. Otunga attacked his wife at their home in Taywood Road on 29 December last year.
Otunga was jailed for a minimum of 22 years at the Old Bailey.
Police said the killer claimed she attacked him with a knife, which he wrested from her and she was stabbed during the struggle. He said it was the "threat of violence" that led him to lose control.
But officers described Otunga as a "jealous controlling man" who insinuated that his wife was having affairs with other men, of which there was no proof.