Tulisa Contostavlos trial: Reporter denies spiking drink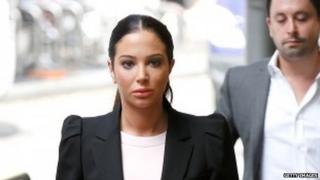 An undercover reporter has told the trial of singer and TV star Tulisa Contostavlos that claims he spiked her drink at a meeting were "outrageous'.
Mazher Mahmood, dubbed the "Fake Sheikh", posed as a film producer when he met the former X Factor judge.
At Southwark Crown Court, he denied manipulating her.
Miss Contostavlos, 26, denies "sorting out" cocaine for Mr Mahmood by putting him in touch with her rapper friend Mike GLC who supplied the Class A drug.
The story appeared in The Sun on Sunday last June.
The court has heard how during meetings in luxury hotels and restaurants, Mr Mahmood told her she was being considered for a leading role alongside Leonardo Di Caprio in a Slumdog Millionaire-type film tipped for Oscar glory.
'Ghetto background'
In court, Mr Mahmood said he could not remember if a £3.5m fee for the the film role was suggested. But he said it was "possible".
He added: "I remember she asked for £3m for this film part through her accountant on May 23."
Miss Contostavlos's barrister Jeremy Dein QC said the film would tell the story of a female character from a "ghetto background" and that Mr Mahmood had given the impression that he wanted a "bad girl" for the part.
Mr Mahmood said: "The part in the film was a bad girl. I didn't want a bad girl to play it."
The court heard that Mr Mahmood's colleague "Nish" - not her real name - pretended she was on the phone to Hollywood star Cameron Diaz.
Mr Mahmood, who was accused by Mr Dein of "lying to the jury" during parts of his evidence, denied that it was later suggested to Miss Contostavlos that she may lose the part to British actress Keira Knightley.
'You misled her'
Giving evidence behind a screen to protect his identity, Mr Mahmood said he used "subterfuge" when he secretly recorded meetings with the ex-N-Dubz star from Friern Barnet, north London, as he attempted to establish whether she was involved in drugs.
"The motive here is in the public interest to expose criminality," he said.
Under cross-examination, Mr Mahmood denied that the reason for the expose was to create a "sensational story".
Mr Dein said: "You misled her, didn't you?" to which Mr Mahmood replied: "You can't mislead somebody into supplying cocaine."
Mr Dein suggested that Mr Mahmood and "Nish" spiked Miss Contostavlos's drink when they met at London's Metropolitan hotel on 10 May last year.
Mr Mahmood said this was "outrageous" and that it was "nonsense" that he got her to incriminate herself.
He also denied that he had any intention of getting her drunk, and that she was not drunk at one of their meetings.
Mike GLC, whose real name is Michael Coombs, 36, pleaded guilty on Monday to supplying half an ounce (13.9g) of cocaine - which tests later showed was at 37% purity - for £820.
The trial continues.