No human remains found in Islington garden search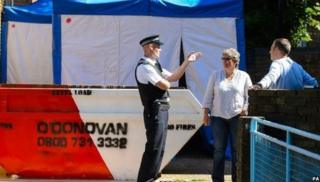 No human remains have been found in a north London garden after police began digging the area following a tip-off.
In July 2013, officers were informed of allegations going back 30 years that human remains may be buried in Searle Place, Islington.
They started excavating in the rear of the property on Monday and completed the search on Wednesday.
Islington Borough Commander Gerry Campbell said officers were in the process of restoring the property.
He said: "After three days of meticulous excavation by specialist teams, supported by ground penetrating radar, this part of the investigation has been concluded with no human remains being found."
He also thanked the occupants of the property for their "patience, understanding and co-operation".
Officers said the tip-off did not relate to the current occupiers of the home or any current missing person inquiry.
Detectives said they had spent the last year trying to corroborate the information and made inquiries abroad before excavating the property.