Teens guilty of market trader death after 'watch confrontation'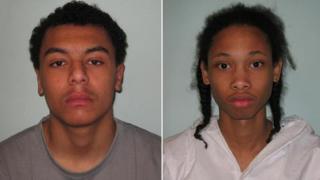 Two teenagers have been found guilty of killing a market trader in a row over a stolen watch.
Rashid Naeem, 29, was stabbed in the chest during a struggle at Queen's Market in east London in February.
Karlton Burton, 15, was found guilty of murder at the Old Bailey while Javauntee Campbell, 16, was found guilty of manslaughter.
The boys, named by judge named out of public interest, will be sentenced in September.
'No remorse'
A third boy who is just 15, cannot be named for legal reasons, was cleared of murder.
Prosecutor Sean Larkin QC said the boys visited Mr Naeem and his brother's stall in February and "started fiddling around with some of the objects" before Campbell took a watch and they walked off.
They later returned to a stall nearby and Mr Naeem and his brother went to confront them.
Mr Larkin said: "The two brothers are unarmed and they go over and ask for the watch back and there is a struggle, in the course of which...the deceased is stabbed in the chest."
Following the stabbing Scotland Yard took the step of accusing the boys of murder before Mr Naeem had died, because it was not believed he would survive the injuries.
After the verdict, Det Insp Ken Hughes said: "This was a cold-blooded killing in broad daylight, carried out in a merciless fashion.
"Throughout this trial, the defendants have shown no remorse, despite having ample opportunity to do so."