Masonry falls in Tube station tunnel at Mile End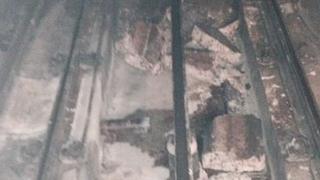 Masonry fell into a tunnel at an east London Tube station earlier, London Underground (LU) has confirmed.
The masonry fell on the track at Mile End Station narrowly missing a train, sources at the RMT union told the BBC.
The driver stopped the train before being hit and no-one was injured, the sources said.
But a LU spokesman said: "The train was static at a platform when the debris came down and fell into the pit, not on the track."
There were delays on the Central Line on Saturday morning following the incident.
Phil Hufton, London Underground's Chief Operating Officer, said: "At no time was there any danger to passengers."
"As a precaution, the Central line was suspended for a short period of time earlier today so the tunnel wall could be assessed by a civil engineer after a small amount of masonry was found beneath the track at Mile End.
"It was found to be safe to resume services and the damage will be repaired overnight during engineering hours."