'Sumo wrestlers' in 5km Battersea Park charity run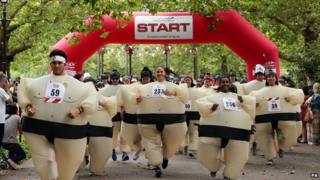 Dozens of fun runners have donned giant sumo wrestler suits to take part in a race around a south-west London park.
After a "mass inflation" which saw the eye-catching outfits blown up, the runners jogged, or wobbled, the 5km (3.1 miles) course in Battersea Park.
Many participants accessorised their suits with masks - including some of Royal Family members.
The event previously set a Guinness World Record for the largest gathering of runners in sumo suits.
The race is raising money for the charity Link Community Development, which works with governments and communities to improve the quality of education for children in sub-Saharan Africa.