Daniel Spargo-Mabbs death: Man jailed for drug supply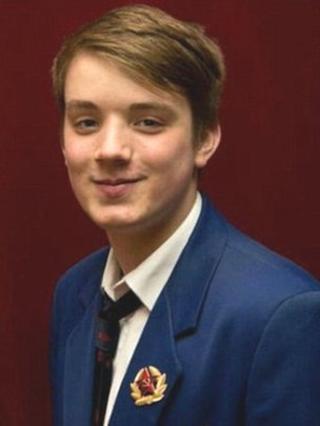 A man has been jailed for five years for supplying drugs after a 16-year-old boy died at a rave in west London.
Daniel Spargo-Mabbs, from Croydon, died from multiple organ failure three days after taking ecstasy at a rave in Hayes on 17 January this year.
Nicqueel Pitrora, 18, of Croydon, admitted to being concerned in the supply of a class A drugs on the day.
The court heard he regularly sold drugs to schoolboys under the street name Shampz to supplement his benefits.
Speaking with her husband Tim at her side, Fiona Spargo-Mabbs told the court her son's death had left their close-knit family in a devastating "haziness", which they were still trying to cope with.
"It is like having a limb ripped off without any anaesthetic," she said. "It it like having an enormous wound but it is much worse.
"I would choose either of those things [rather] than losing my son."
Family's pain
In her statement, Mrs Spargo-Mabbs said she suffered from exhaustion, had lost an enormous amount of weight and was having counselling. She also said her husband was on anti-depressants.
She added: "How can someone who has been such a part of my life, his mother for 16 years, not be there when I am?"
Daniel's brother Jacob said he felt like "a part of me is missing".
Judge Martin Edmunds QC told Pitrora during sentencing: "I keep well in mind that you are being sentenced for being concerned in supply and not for manslaughter.
"But there can be no question that you bear a heavy weight of responsibility for the death of Daniel.
"[It was] apparent you made a business of supplying drugs to schoolboys using the street name Shampz to supplement your benefit income and fund your own use," the judge added.
During the trial, the court heard Daniel and his friends pooled money together to pay for the drugs and four calls were made to Pitrora.
Three bags of white powder were delivered and Daniel, who paid £20 for MDMA, is believed to have put about half a gram of the drug into 500ml of water. A witness claimed he possibly drank it in one go.
Supt Des Rock said: "Pitrora was very much responsible for co-ordinating the drugs deal and, with such overwhelming evidence against him, he had no choice but to plead guilty."
Pitrora pleaded guilty at Isleworth Crown Court to being concerned in the supply of class A drugs on 17 January, supplying class B drugs between 1 January 2013 and 16 January 2014, and the possession of class B drugs (cannabis) on 21 January.