Rhythm, rum and rain at London's Notting Hill Carnival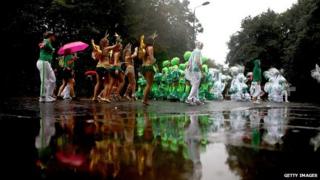 It may have been raining, but this did not deter thousands of people from attending the Notting Hill Carnival on bank holiday Monday.
"Three for five," shouts a woman holding cans of beer, trying to entice some rain-soaked revellers to indulge. Despite the overcast skies, carnival goers are out in force donning plastic ponchos and sipping on something strong.
"The rum helps," says Chenette Fontaine, who is part of the Ucon mas band taking part in Europe's largest street festival.
Their theme this year is animal instinct, which is embodied in Chenette's green feathered headdress. Ucon won an award at last year's carnival and the 25-year-old is keen to defend their title in 2014.
"The best part is the judging point, they call out each section and everyone just goes crazy. People do not worry about the rain or their hair getting wet - it's carnival."
The streets of west London are a riot of colour and music. From the sounds of Soca to the smell of sizzling chicken, each element of the Notting Hill Carnival helps makes the festival a destination for people from across the world.
Like Sabine Hess, who usually spends her days dealing with toddlers as the head of a nursery in Zurich, in Switzerland, but this weekend she has been dancing along the streets.
"This is the fifth year we've come for carnival weekend, we love Soca music," she said.
For Bonito Coleman it's all about the food. He's made a shorter journey from Nottingham to set up his stall on the corner of Bleinheim Crescent.
"The bestseller is usually the chicken," he said. "I've been coming 25 years. Everyone just comes together, you can be white, black, green - people just unite."
But for some residents it is just a normal day.
"We're on our way to the supermarket," says Francesca Goldsworthy, as she walks up Ladbroke Grove with her seven-year-old son Max and 11-year-old daughter Sophie. "I have always lived here and it's nice to hear the music, but I have had people wee on my doorstep before."
The melodic sounds of the steel pan are being celebrated at this year's event, 50 years after a trio took to the streets of Notting Hill in an impromptu procession which laid the roots for what the carnival has become today.
"Some people were saying, 'why don't you go back to your country? what are you demonstrating for?'" said Sterling Betancourt, who was part of the Russell Henderson Trio that played in 1964.
"They did not know it was a carnival and we were going round the place," the 84-year-old laughed. "When we went to play, we had no idea it would even continue."
The carnival certainly shows no signs of stopping, the basslines of the sound systems vibrate as dancers challenge each other to see who can drop it low to the cheers of the crowds.
"We didn't know what to expect but it's really good", said Mark Collier, who made the journey from Aylesbury with his wife Helen.
"We've decided to do 50 things for Mark's 50th, which was earlier this year, this is number 23," said Helen. "Another one is dancing in the rain, so we can do that today as well."
However, there are some benefits to the bad weather, as some regulars have managed to grab a prime spot.
Natalie Palmer, who set up a pitch on Ladbroke Grove, said: "Rain shouldn't put you off carnival."