Alice Gross search: Images of five cyclists released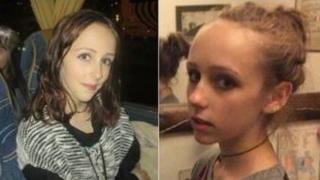 Five cyclists caught on CCTV riding past the last known location of a girl who has been missing for a week have been urged to contact police.
Fourteen-year-old Alice Gross was last seen at 13:00 BST on 28 August when she left the family home in Hanwell.
Scotland Yard said the "distant" images of the cyclists were taken along the Grand Union Canal moments before Alice walked past them at 16.23 BST.
Her mother told the BBC Alice had recently been diagnosed with anorexia.
The footage shows three cyclists passing the Trumpers Way Canal Bridge in Hanwell, before two more cyclists pass under the canal bridge moments later.
It is unclear what gender or age the cyclists are.
Alice was last seen by her family on Thursday having told them she was going to meet some friends and would be back that evening.
Instead she went for a walk alone along the River Brent tow path and did not return.
The Brentside High School student was captured on CCTV at 14:23 near the Holiday Inn at Brentford Lock walking along the Grand Union Canal tow path towards Kew and again in the same location at 15:45 in the direction of Hanwell.
On Thursday, Alice's purple rucksack containing some of her possessions was found beside the River Brent.
The Met's homicide division has taken the lead on the investigation, but said it remained a missing persons case and they were keeping an "open mind".
Det Ch Insp Andy Chalmers said: "If you are one of the cyclists pictured then please call the investigation team immediately because we need to find Alice."
The teenager has been described as being 5ft 2in tall, slim, with shoulder-length light brown hair.
When she was last seen by her family, she was wearing dark blue jeans, a dark green lacy cardigan and denim Van's shoes. She may also be wearing tartan-framed spectacles.
CCTV footage released earlier this week showed she had taken her cardigan off and was wearing a dark grey t-shirt.
Speaking to the BBC, Alice's mother Rosalind Hodgkiss said: "We are desperate to know that she is safe and we really want her to know that we want her home, and we are desperate for her to know how loved she is."