London vicar 'held sham weddings on industrial scale'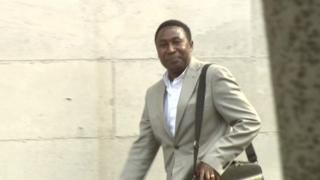 A south-east London vicar presided over a "matrimonial conveyor belt" of sham weddings so foreign nationals could stay in the UK, a court has heard.
The Reverend Nathan Ntege, 55, is accused of marrying almost 500 bogus couples at a church in Thornton Heath.
The Inner Crown Crown heard the vicar was the "lynchpin" of a group at St Jude's with St Aidan Church.
Mr Ntege, from Thornton Heath, denies 14 counts of facilitating a breach of immigration law and one of fraud.
Edward Lucas, prosecuting, told the court: "The weddings that form the subject of this case were neither conducted correctly or legally and their sole purpose was to facilitate an industrial-scale abuse of the system of immigration control within the UK."
'No questions policy'
Immigration officials became suspicious because of the "inordinate number" of weddings taking place at the parish church which rose from six a year to six a day, Mr Lucas said.
He said many of the marriages involved nationals from the European Economic Area marrying people from outside so they could later attempt to seek to remain in the UK.
Mr Lucas said many were introduced to the church because of its "no questions asked policy".
Mr Ntege was arrested in June 2011.
The prosecution claim the vicar defrauded the church by not transferring £69,000 in statutory fees he charged for weddings between January 2007 and May 2011.
During the same period, Mr Ntege also transferred about £55,000 to Uganda, where he was ordained, the court heard.
Mr Lucas said the weddings were "somewhat farcical" with several brides wearing the same dress.
Six other defendants are also charged in connection with the sham weddings, including Brian Miller, 81, and Maudlyn Riviere, 67, who acted as the church verger and secretary respectively.
Ms Riviere, of Lucerne Road, Thornton Heath, denies 15 counts of commissioning a breach of immigration law, while Mr Miller, of Owl Close, Croydon, denies seven counts of the same offence.
Galina Petkova, 51, of Shrubbery Road, Enfield, and Georgia Forteath, 34, of south Norwood, were both married at the church and are accused of acting as "fixers" for other weddings.
Ms Petkova denies seven counts of commissioning a breach of immigration law and Ms Forteath denies two counts of the same offence.
Innocent Odoh, 34, of Brownhill Road, Hither Green, south-east London and Angela Palachie, 54, of Florida Road, Croydon both face one count each of commissioning a breach of immigration law and another of deception. They deny both charges.