Man shot dead by police in Islington named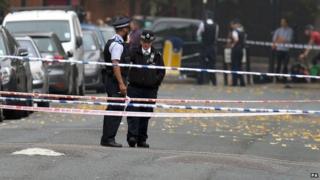 A 40-year-old man shot dead by police in north London has been named by the police watchdog probing the shooting.
Dean Joseph, from Northumberland Park, Haringey, was shot after police were called to Shepperton Road in Islington, in the early hours of 5 September.
Firearms officers and negotiators were responding to reports of a woman being threatened with a knife.
The Independent Police Complaints Commission said it had spoken to more than 30 witnesses during its inquiries.
The watchdog, which is investigating the circumstances surrounding Mr Joseph's death, earlier said two shots were fired by police during the incident.
A post-mortem examination found the man died as a result of shock and haemorrhage caused by a gunshot wound to the the left chest.
He also suffered a bullet wound to his upper left arm and died on the way to hospital.