Atek Hussain murder: Police launch new appeal 20 years on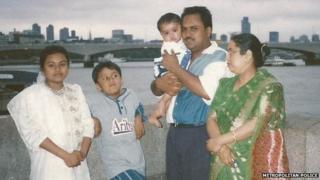 Police have launched a fresh appeal for information about the unsolved murder of a father-of-three from east London 20 years after his death.
Atek Hussain was stabbed outside his home in Burnels Avenue, East Ham in the early hours of 18 September 1994.
The 32-year-old restaurant owner died in hospital a short time later.
The case has been reviewed several times since the original investigation but no-one has yet been brought to justice.
Acting Det Insp Chris Pattrick, from the Metropolitan Police's Homicide and Major Crime Command, said: "For the sake of Atek's family we would ask anyone who can help to please get in touch.
"Twenty years is a long time and things change. Perhaps you, or someone you know, were on the periphery of what happened that night."
Mr Hussain, 32, had spent the evening working at his family-run restaurant, the Warlingham Tandoori at The Green, Warlingham in Surrey.
He dropped off some employees in Poplar before arriving home, where he lived with his wife Khudeja and three children, aged 10, seven and eight months, at about 02:35.
Mr Hussain is believed to have been attacked as he got out of his blue Vauxhall Cavalier, and was stabbed in the heart.
He managed to tell his family his attacker was Asian before collapsing.
Police said it appeared to be a planned attack and robbery is a line of enquiry, given that Hussain was responsible for the takings at the restaurant and was carrying almost £1,000 that night.
They also believe a denim jacket found in the churchyard of St Mary Magdalene in nearby Norman Road could be connected to the murder.