Two guilty over Shadwell Basin frozen water death in Wapping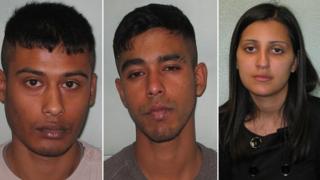 Two brothers have been found guilty of manslaughter after leaving a man to die in freezing waters in east London.
Ibrahim Ghrib, 20, died in Shadwell Basin, part of the Thames, despite two passersby trying to rescue him.
At the Old Bailey Amran, 27, and Misba Chowdhury, 24, both of Whitney Avenue, Ilford, were convicted of carrying out the unprovoked attack.
Amran's girlfriend Steffi Rai, 27, of Birmingham, was convicted of perverting the course of justice.
All three will be sentenced at a later date.
Scotland Yard said Mr Ghrib had been drinking with his 17-year-old girlfriend beside the water's edge on the evening of 18 March 2010 when Amran and Misba Chowdhury and several others went over to them.
The man nearest Mr Ghrib's girlfriend hit her across the head with a bottle several times causing her to collapse.
She came around to hear her Moroccan-born boyfriend shouting from the 12-metre deep water and the group running off.
Despite the efforts of two men Mr Ghrib could not be rescued and died in the water.
Amran Chowdhury's phone was recovered from the scene and he later handed himself in to police while Misba Chowdhury was arrested at a property which was being searched.
The force said Rai, of Holloway Circus Queensway, was interviewed as a witness and gave a detailed account of events that night, which later proved to be false.
Five other men were arrested during the course of the investigation but no further action was taken against them.