Camden street cleaner wins £4.5m Lotto jackpot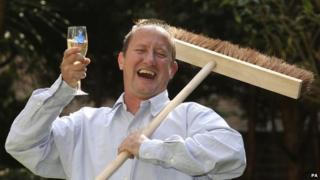 A roadsweeper who won £4.5m on the Lotto went to work the following day because he did not believe he had won.
Joseph Whiting, 42, from Camden, checked his tickets at 04:00 BST on Thursday after last Wednesday's draw but turned up to clean the streets an hour later.
He won £4,570,887 with a ticket bought nine minutes before the deadline.
Mr Whiting said he planned to buy a bigger house and go on holiday with his children to Disneyland.
The street cleaner, who has worked in the job for 14 years, said: "I don't know how I got through the day. My mind was all over the place. You can check 100 times and you are still not sure."
Mr Whiting handed in his notice at work on Monday and said: "My line manager was made up for me."
"I enjoy it, it isn't a bad job and I work with a good team. However, I won't miss getting up at four in the morning."