'Breaking Bad' poison murder accused 'unlucky in love'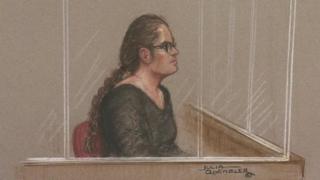 A woman who allegedly poisoned her mother in a Breaking Bad-inspired plot in order to be with her fiancé has admitted she was unlucky in love.
Kuntal Patel, 37, denies trying to murder her magistrate mother by putting abrin in her Diet Coke drink.
Prosecutors say she was angry her mother "forbade" her from marrying her boyfriend Niraj Kakad.
Southwark Crown Court heard she penned a message to Mr Kakad saying: "I've not had much luck with guys."
"I've never even received a Valentine's Day card," the letter added.
The letter, which she never sent, continued: "I thank God every day for bringing you into my life. No-one has ever talked to me like you have. I trust you. I'll do all I can for you."
'Dark web'
Ms Patel denies trying to murder her mother and acquiring a biological agent or toxin, but has pleaded guilty to two counts of attempting to acquire a biological agent or toxin last December.
Driven to despair that her mother was scuppering her chance of happiness, Ms Patel is said to have turned to the secretive online world known as the "dark web" to buy a ricin-like poison to kill her mother.
She allegedly had it shipped over hidden in a candle and spiked her mother's drink with it, but she survived.
The plot was "inspired, in part, by the US television series Breaking Bad", according to prosecutor Jonathan Polnay, in which a character is killed off using ricin, Southwark Crown Court has heard.
Mr Kakad flew to London to see her in June 2012 to give their relationship a go.
But Ms Patel's "controlling and selfish" mother was determined to break the couple up, the court was previously told.
The trial continues.