'Blunders' made in Domenico Rancadore Mafia extradition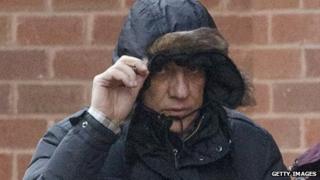 Prosecutors made a "comical series of blunders" in attempts to extradite a Mafia fugitive who lived in the UK for two decades, a court has heard.
Domenico Rancadore, known as The Professor, avoided extradition in March.
A judge decided Italian prison conditions would breach his human rights because he has a serious heart condition.
The 65-year-old was was re-arrested in April.
He is again fighting extradition to Italy to serve a seven-year sentence for association with the Sicilian Mafia.
Appearing at Westminster Magistrates' Court for a fresh extradition hearing before Senior District Judge Howard Riddle, his lawyers said that bringing the same case against him twice was an abuse of process.
Representing Rancadore, Alun Jones QC also described his client's second arrest, which took place at 21:00 BST on a Friday night, as "utterly, utterly unnecessary".
John Hardy QC, representing the Italian authorities, told the court the Crown Prosecution Service had made a "comical series of blunders" in relation to the Sicilian's extradition.
But Mr Hardy argued the mistakes did not amount to an abuse of process and should not stop the extradition going ahead.
The mistakes included serving legal papers late to Rancadore's lawyers ahead of an appeal at the High Court and failing to inform counsel that a new assurance had been given by the Italian authorities regarding the prison he would be sent to if extradited.
Rancadore spent two decades living under the name of Marc Skinner with his family in Uxbridge, west London, before he was first arrested in August last year.
Claustrophobia
Giving evidence, his wife, Anne Skinner - known to the court as Mrs Rancadore - said that her husband's health had suffered since his second arrest.
She said: "It has deteriorated, he trembles a lot and he suffers now from claustrophobia.
"He cannot be inside a lot and has to go out in the garden because he needs open-air spaces.
"He is generally very confused in his mind and it is causing stress with everybody in our house, myself and my daughter as well."
Judge Riddle originally decided to extradite Rancadore but reversed his decision over human rights concerns.
A new arrest warrant issued in April by Italian authorities addressed those issues, prosecutors said at the time.
Judge Riddle told Rancadore that he was bailing him to appear for another short hearing on October 21, when the court is expected to hear from an expert for the defence on prison conditions in Italy.
A report would be prepared, the judge said, with time for it to be considered ahead of the next hearing.