David Cameron to look into Alice Gross murder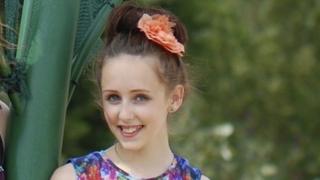 David Cameron said he would "examine all the circumstances" surrounding the murder of schoolgirl Alice Gross whose body was recovered on Tuesday.
The prime minister described the case as "horrific" and said he was "absolutely sickened" by it.
He said he would see if any lessons could be learned about countries exchanging information about criminals.
The prime suspect for Alice's murder is Arnis Zalkalns, 41, a Latvian building labourer with a murder conviction.
Alice 14, was last seen on 28 August after leaving her home in Hanwell, west London.
Her body was found in a west London river on Tuesday.
'Absolutely sickened'
Speaking to journalists at Kabul airport after visiting Afghanistan, the prime minister said: "It is a horrific case and anyone with a daughter will have felt absolutely sickened by what has happened and what that poor family has had to go through.
"I will look at all the circumstances of the case and what lessons there are to learn - whether that is about exchanging information or whether it is about the importance of keeping our country safe."
A post-mortem examination failed to reveal the cause of Alice's death and detectives said further tests were needed.
In a statement, her parents said: "It is difficult to comprehend that our sweet and beautiful daughter was the victim of a terrible crime."
Mr Zalkalns was filmed cycling along the Grand Union Canal 15 minutes after Alice had walked along it on 28 August, and has been missing from his Ealing home since 3 September.
He served seven years in prison in his native country for bludgeoning and stabbing his wife Rudite to death.
The general labourer, who worked at a building site in Isleworth, west London, is believed to have come to the UK in 2007, but authorities here are thought to have had no record of his murder conviction.