Harminder Singh Jhaghra murder: Kiranjit Uppal jailed for life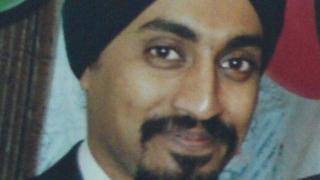 A killer who evaded capture for 17 years has been jailed for life.
Kiranjit Uppal, 37, was convicted on Monday of the murder of Harminder Singh Jhaghra, who was stabbed in west London in February 1996.
A judge at Isleworth Crown Court said Uppal must serve at least 16 years before he is eligible for parole.
Uppal fled the UK following the killing but was arrested in September 2013 after taking a flight from India to Heathrow, the Metropolitan Police said.
'Comfortable life'
Mr Jhaghra was stabbed in the arm during a clash between rival groups from Cranford and Southall in west London, the Met said.
He died in hospital.
The weapon used to kill Mr Jhaghra was never recovered but clothing found was linked forensically to Uppal.
He was also found guilty of causing grievous bodily harm in connection with an attack on the same day of the killing.
He was jailed for five years for that crime, to run concurrently with the murder sentence.
Speaking after sentencing on Thursday, Det Ch Insp Charles King said: "For almost 18 years Uppal thought he had got away with murdering Harminder Singh Jhaghra and had been living a relatively comfortable life in India.
"The events of that fateful day have left a profound effect on Harminder's family.
"They have had to wait 18 long years to witness this day and I would like to thank them for supporting us with this latest trial."