Senior Tory MP attacks Met treatment of whistleblower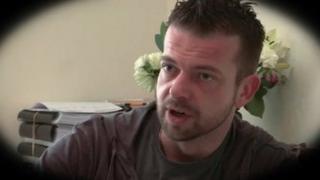 A Conservative MP has attacked Scotland Yard for its "shameful" treatment of a whistleblower.
Bernard Jenkin MP told parliament ex-Met PC James Patrick was the victim of "monstrous injustice" and was "hounded" from his job.
Mr Patrick had said crime figures had been manipulated and sexual offences were under-reported by 22-25%. He resigned from the force in March.
The Metropolitan Police said he was not disciplined for any of the comments.
In a statement, Scotland Yard said: "PC Patrick has not been disciplined, nor has any discipline been considered, for any of the comments or points he made to the Parliamentary Public Accounts Select Committee."
Last year, Mr Patrick told MPs that massaging crime figures to hit performance targets had become "an ingrained part of policing culture".
His comments, along with further evidence, led to the UK Statistics Authority stripping police-recorded crime figures of their gold-standard status.
Speaking during a parliamentary debate Mr Jenkin, chair of the Public Administration Select Committee, praised Mr Patrick's courage for speaking out.
He said: "By doing his duty and raising these issues he showed the highest commitment to those core policing values. But as a result he became the victim of the most monstrous injustice.
"He was effectively hounded out of his job following a long period of harassment by the Metropolitan Police command chain who used and abused, I dare say, the disciplinary process to get rid of him."
But in its statement, Scotland Yard, said: "The Metropolitan Police Service has long established processes for officers and staff to report anything they believe to be wrong.
"They are actively encouraged to use these procedures and to challenge anything they see as poor performance or inappropriate behaviour within the service."
MPs in Westminster Hall were also told Met Police Commissioner Sir Bernard Hogan-Howe failed to meet Mr Patrick despite stating he would do so during a radio interview last December.
The former shadow minister added Mr Patrick has withdrawn from employment tribunal proceedings involving the force as it had taken "too heavy a toll" on him and his family.