Abbas Khan inquest: George Galloway says doctor was 'murdered'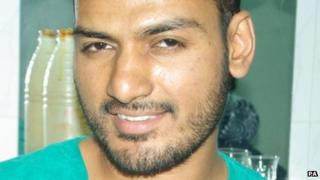 MP George Galloway has told an inquest that he believes the death of a surgeon in a Syrian prison was "murder".
Dr Abbas Khan, 32, a father-of-two from south London, died on December 16 2013 while in custody in Damascus. His family claim he was murdered.
At the Royal Courts of Justice Mr Galloway said: "I can't say for certain what happened but... that leads me to conclude that he was murdered."
The Syrian government maintains he was found hanging in a jail cell.
'Nobody will believe it'
The Respect MP for Bradford West was contacted by Dr Khan's family shortly after he was captured in Aleppo on 22 November 2012, having been helping victims of hospital bombings.
Mr Galloway said he sent a formal appeal for clemency to the president and was given an assurance in January that Dr Khan would be released after the process of a court case.
He said he had made arrangements to fly out to Syria on 20 December last year to collect Dr Khan but four days before learned he had been found dead.
Mr Galloway said: "I was very upset about it - shocked.
"I immediately called the deputy foreign minister who told me that Dr Khan had committed suicide and went into details of how.
"I said 'I can believe that you believe what you are saying but I don't believe those circumstances as they have been described and nobody else will believe it either. And I must tell you that I will not be able to pretend that I believe it. I will have to publicly state that I don't believe it.'."
Mr Galloway said it seemed "absurd" that someone who was joyous about being released would commit suicide.
He told the court the only people who would have the ability to murder a high-profile prisoner in defiance of the president and the foreign ministry would be Syrian intelligence.
The jury has been asked to consider whether Dr Khan took his own life, or if he was "forced in some way by his captors to take his own life against his will", or if he was "unlawfully killed" by his captors.
The inquest continues.