London Underground worker helped scarf woman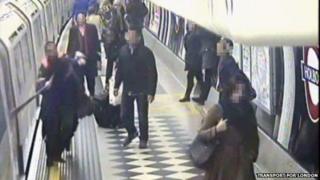 A Tube worker may have helped save a woman from being seriously hurt after she was dragged along a platform when her scarf was caught in a train door.
The woman was pulled 30ft (10m) along Holborn Underground station in London in February.
A report said the station assistant caught the woman and the woollen scarf was carried away by the train.
The Rail Accident Investigation Branch (RAIB) report recommended improvements to how staff can help in an emergency.
It stated: "The passenger suffered injuries to her neck and back, but the actions of the member of staff may have saved her from being more badly hurt."
She was unable to free the garment from the doors as the train began to move and the member of staff did not alert the driver to the situation, the RAIB report said.
The report recommended London Underground should consider improvements to the way staff can stop trains from departing in an emergency.
The last fatal accident of this type also occurred at Holborn station in October 1997 when a nine-year-old boy caught his anorak in a Tube train door and was dragged under a train.
However, the RAIB report said there did not appear to be any factors "associated with the location that could create any link between the 1997 and 2014 accidents".
Nigel Holness, operations director at Transport for London (TfL), said: "The quick thinking of our staff during this incident prevented further injury to the customer, and all of our safety procedures and warnings were carried out as normal before the train moved away from the platform."