Marcus Campbell case: Hospital's care to be reviewed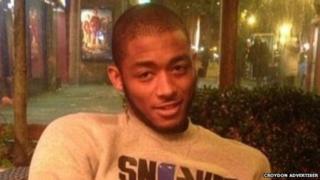 A hospital accused of giving up on a man in intensive care has promised to bring in an independent expert to assess him.
Marcus Campbell, 22, has a rare brain condition and is being treated at Croydon University Hospital.
His family say, against their wishes, the hospital will not resuscitate the father of two if his heart stops.
The hospital says an expert consultant intensive care physician will review all of Mr Campbell's medical records.
The physician will also discuss the case with the family before writing a report.
'Heartbreaking time'
Mr Campbell has a rare inflammation to his brain stem and has caught two infections since being in hospital.
After an appeal on social media, a protest has been taking place outside the hospital.
On Wednesday night, more than 100 people demonstrated there.
Police have been stationed outside the hospital throughout Thursday.
A petition, calling for Mr Campbell to be moved to a specialist neurological hospital has attracted more than 18,000 signatures.
His mother Sandra Palmer said she was feeling very weak and depressed.
"At one point I felt suicidal, I just didn't know how I was going to carry on and how I was going to cope," she said.
In a statement, Croydon Health Services NHS Trust said: "This is a heartbreaking time for the family and we want to make the right decisions for him."
It added: "Marcus, and every patient on our intensive care unit, is incredibly important to us and we will take every decision that is necessary in the interests of our patients and staff to ensure the safe running of the hospital."