Tower Hamlets inspection report due, says Eric Pickles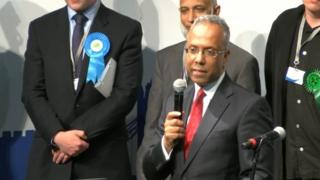 A report into allegations of Tower Hamlets election fraud is due on Tuesday, a cabinet minister has said.
The report will be highly critical of some council processes, including the lack of proper paper trails for grants, BBC London understands.
It follows allegations in a BBC Panorama investigation that directly-elected mayor Lutfur Rahman diverted charity money for political support.
Mr Rahman has denied all allegations of electoral malpractice.
Mr Pickles, Secretary of State for Local Government, tweeted it would be published with a written statement to the Commons at 09:30 GMT.
'No criminal behaviour'
PricewaterhouseCoopers (PwC) inspectors were appointed in April to examine allegations of "governance failure, poor financial management and fraud" in the east London borough.
It was alleged Bangladesh-born Mr Rahman had more than doubled funding recommended by officers for Bengali-run charities.
PwC have audited the authority's payment of grants, the transfer of property, spending decisions in relation to publicity, and other contractual processes, from 25 October 2010 to the present day.
It is understood it will not go as far as saying there is proof of fraudulent or criminal behaviour, however, said BBC London political reporter Karl Mercer.
Inspectors were due to report back on 30 June, but that deadline was moved with Mr Pickles accusing the council of holding up the process by not handing over all the relevant documents.
He has said the council will have to foot the bill for the investigation, believed to be close to £1.5m.
Separately, the High Court has heard a petition brought by four local activists who claim May's council election was marred by bribery, corrupt practices and undue influence over voters by Mr Rahman and his party, Tower Hamlets First.
Richard Mawrey QC has the power to order a recount or a scrutiny, which would involve scrutinising the signatures on the postal ballot papers.
Mr Rahman, who won the mayoral vote in May by just over 3,000 votes, said in April he welcomed the decision to send in independent auditors.
He said he hoped the secretary of state would "observe for himself the great things the council, community organisations and businesses are doing working together with all our residents".