WWII mortar bomb handed in at Sutton police station during amnesty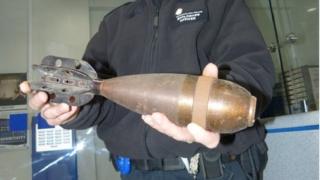 An 80-year-old man caused a security alert when he handed in a mortar bomb at a south-west London police station as part of a gun amnesty.
The World War Two ordnance was taken Sutton station.
The 1940s relic sparked a partial evacuation of the building and cordons were set up in the street outside.
Earlier, the Metropolitan Police launched an amnesty designed to encourage people to hand in firearms and ammunition.
Explosives officers were called after the device was handed in at about 13:21 GMT.
'Mantelpiece ornament'
The device was declared safe about an hour later.
The man, from Carshalton, south-west London, walked into the police station and placed the bomb on the front counter, the Met said.
He told police the device, which belonged to his father, had been on his mantelpiece as an ornament for the past decade and he had maintained its appearance with regular cleaning.
The explosives officers described the device as a 3in 1940s mortar without a fuse or firing pin.
It may have been used for drill or training purposes, they said.
When it was brought into the police station, front counter staff were told what it was but were unable to see what it looked like or assess its condition because it was wrapped in plastic bags, the Met said.
Acting Ch Insp Andy Brittain said: "We felt it was appropriate to call in the experts and get them to deal with it - in the meantime we took steps to protect our officers, staff and members of the public."