Leytonstone stabbings: Drug dealers 'killed in frenzied attack'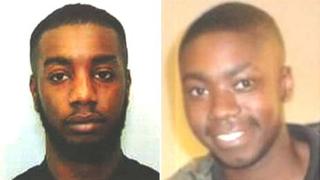 Two drug dealers were ambushed and stabbed to death by a gang of young men in a "swift, frenzied, utterly brutal attack" in a quiet residential street, a court heard.
Aaron Carriere, 21, and Josiah Manful, 20, were stabbed 24 times in under a minute, the Old Bailey heard.
The two men were "lured" to a road in Leytonstone, east London, in the early hours of Saturday 1 March this year.
They were then "boxed in" by the cars of their killers, the jury was told.
Devonte Campbell, 20, Casey Jones, 19, Alex Bernard, 21, Omar Hassan, 21, Wail Alawi, 23, and two 17-year-olds who cannot be named for legal reasons, all from east London, deny two counts of murder.
'Helpless and trapped'
Prosecutor Lisa Wilding QC said the victims were set upon in their black Ford Fiesta in Montague Road.
Although there were drugs and cash in the car, only one item was stolen - Mr Carriere's mobile phone, which contained his drug-dealing "client list".
Ms Wilding said: "The ferocity of the attack, which was inflicted upon men who were helpless and trapped in their car seats, by a pack of men who surrounded the car, the use of at least two knives, the stab wounds to the neck and torso that killed them, were all intended to cause at least very serious harm and we say was intended to kill them."
Afterwards, some of the defendants tried to evade capture by dumping cars and fleeing the country in the days after the attack, the court heard.
Mr Carriere was a "successful drugs dealer", selling crack cocaine, heroin and cannabis on the streets of Leytonstone and, unbeknown to him, was the subject of an undercover police probe.
On the night he died, he had been dealing drugs and had four packages of crack and eight of heroin rolled together and hidden in his pants as well as £700 cash in his bag, the jury was told.
The case continues.