Jimmy Mubenga trial: Jury retires to consider verdict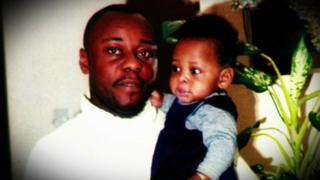 The jury in the trial of three G4S guards accused of killing Jimmy Mubenga on a plane at Heathrow has retired to consider its verdict.
Mr Mubenga had a heart attack and died after being held down during a deportation flight on 12 October 2010.
Colin Kaler, 51, from Bedfordshire, Terrence Hughes, 53, from Hampshire, and Stuart Tribelnig, 38, from Surrey, deny manslaughter.
They said they were unaware Mr Mubenga was in difficulty.
The Old Bailey trial was told other passengers heard the 46-year-old Angolan complain that he could not breathe.
Passenger David Brown told the court he was initially seated in economy row 39 of the World Traveller flight - the same row as Mr Mubenga - and saw him flanked by guards in the middle three seats.
He said Mr Mubenga was on his knees with his hands tied behind his back and he heard the deportee scream and repeatedly say: "I can't breathe, let me up."
Mr Brown was moved from his seat to the premium economy row 24 but said he could still hear Mr Mubenga complaining.
But the defence team questioned Mr Brown's version of events, saying he made two later statements and did not mention he had heard Mr Mubenga say anything from his new seat.
During the case, six of the 12 jurors were sat in a mock-up of the Boeing 777 seats in the court to recreate where Mr Mubenga was pinned down.
They were told to place their hands on their head before their right hand was cuffed and placed behind their back by a police officer, and then their left hand was locked in position too.
The court was told when Mr Mubenga was taken on to the plane he was healthy and had co-operated with the guards.
While on the plane, he became upset which led them to restrain him in his seat and after 35 minutes he went into cardiac arrest.
He was pronounced dead in Hillingdon Hospital, west London, later that night.