Robert Fraser detained over sex worker's death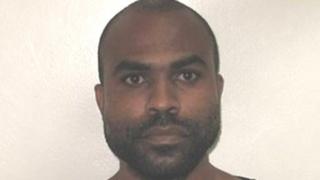 A killer who attacked escorts has been detained indefinitely in a high-security psychiatric hospital.
Robert Fraser, 40, killed Maria Duque-Tunjano, 48, who was found battered to death at her flat in Earls Court, west London, on 28 January.
He had been charged with murder but his guilty plea of manslaughter by reason of diminished responsibility was accepted by the prosecution.
The court heard Fraser had not received the psychiatric help he needed.
Fraser hears voices and has been diagnosed with paranoid schizophrenia.
Simon Denison QC told the Old Bailey that Ms Duque-Tunjano, originally from Colombia, had "clearly been subjected to a violent attack".
Fraser denied a charge of robbery but instead pleaded guilty to theft, admitting he had taken £150 and a mobile phone from Ms Duque-Tunjano.
The court heard that Fraser told doctors after his arrest that "God represents men, and the Devil represents women".
He believed that his "enemy" was a man disguised as a female sex worker, and that, after beating Ms Duque-Tunjano to death, he "believed he had defeated his enemy by killing her".
His defence said it was "profoundly regrettable" that although the former bank worker had been known to psychiatric services in 2009, he had not received the attention he needed.
'Danger to women'
Three months before the killing he had tried to get help in hospital but was forced to leave on threat of arrest, the court heard.
"He was treated as a bed-blocker; it was believed that he was malingering for accommodation," Fraser's barrister said.
"Over the next three months he relapsed into a profoundly psychotic state."
Appearing via video-link from Broadmoor Hospital, Fraser denied falsely imprisoning and sexually assaulting another escort 10 days before killing Ms Duque-Tunjano.
But he did admit robbing the then-27-year-old of £1,000 in what was described as a terrifying and sustained attack.
Sentencing Fraser to indefinite detention in a secure hospital, Judge John Bevan said: "You represent an ongoing and very real danger to women, which is likely to continue."