Appeal for stolen engagement ring worn by WW2 nurse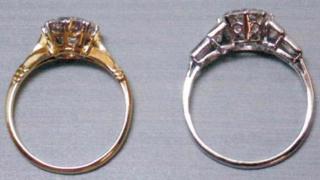 A "very special" engagement ring worn by a former nurse as she cared for victims of the Blitz in the World War Two has been stolen.
It was taken during a burglary and the daughter of its original owner, who died last year aged 95, is appealing for help getting it back.
The ring was among heirlooms stolen during a break-in in Richmond, south-west London, on 10 November.
The nurse wore it around her neck under her uniform.
The ring was described as a single stone diamond ring mounted in a platinum eight-claw setting, with two baguette diamonds on each shoulder and a platinum band.
The centre diamond is 1.50 carat and the baguettes are 0.50 carats, while the ring's total weight is 3g (0.1oz) and a size M.
"My mother died last year aged 95," said the victim, who has not been named by police. "Her engagement ring is very special and I urge anyone who may have any information about it to contact the police.
"Even though the burglars took many other items, if only one item could be restored to me, it would be my late mother's ring."