London bus strike: Tower Transit drivers strike over pay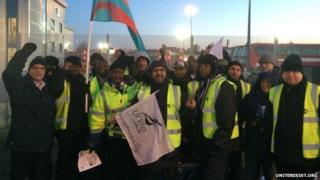 A 24-hour strike by bus drivers in London over pay and conditions has begun.
Unite union members working for the bus company Tower Transit walked out at 00:01 GMT.
Drivers are taking action on 13 routes in east and central London, with 40% of services on those routes affected.
Unite said its members were left with little choice but to strike, however Tower Transit said they had made the union a "perfectly reasonable offer".
'Moderate disruption'
Transport for London (TfL) said the action was causing moderate disruption on the affected bus services and urged commuters to check before they travel.
Mike Weston, TfL's director of buses, said: "Bus drivers' pay and conditions are a matter for Tower Transit and Unite to discuss, as it has been for the last 20 years, and we would urge them to seek a swift and fair resolution for the sake of our passengers."
TfL added that Tower Transit operate less than 2% of London's bus services from their Lea Interchange garage, where the strike is taking place.
A Unite spokesperson said: "Faced with an increasingly hostile management which is hell bent on driving down the pay, terms and conditions, our members have been left with little option but to take the unusual step of striking.
"Tower Transit need to get back around the negotiating table and start treating its workforce with respect."
'Reasonable offer'
Tower Transit Chairman Neil Smith said he wants to find a solution to the dispute: "Only 22% voted for the strike and we have 60% of buses on the road.
"We have an offer on the table that is far higher than most other bus companies are offering at the moment. In our view it is a perfectly reasonable offer."
The industrial action is the first strike over the dispute, with a second 24-hour walkout planned for 5 January.
On 18 December, London bus drivers voted in favour of industrial action against the capital's 18 bus companies which have individual pay deals with TfL.