Bus drivers' second 24-hour strike over pay cancelled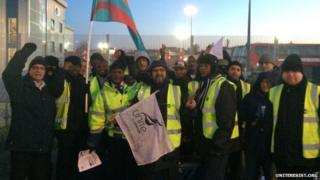 A second 24-hour bus strike over pay and working conditions has been axed.
The company involved, Tower Transit, and the Unite union have agreed to meet at the conciliation service Acas to discuss pay.
More than 20 routes were to be affected in east, west and central London.
After their strike on 29 December, Unite said its members were left with little choice but to take action, but Tower Transit said they had made the union a "perfectly reasonable offer".
On 18 December, London bus drivers voted in favour of industrial action against the capital's 18 bus companies.
Each company has an individual deal with Transport for London (TfL) for running the routes. This means salaries can vary from £17,000 to £25,000 even if drivers cover the same route.
TfL has said it was a matter for the companies and union to discuss.