London 'affordable' housing funding announced by mayor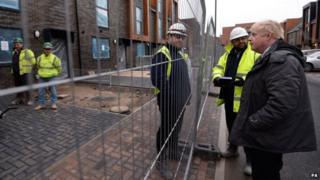 London's mayor has announced plans to allocate £220m to two schemes he hopes will encourage the building of more affordable homes in the capital.
Boris Johnson said the first scheme would boost shared ownership and help home seekers on lower incomes.
The mayor is also investing in a housing product for buyers who struggle to save a deposit.
But a Labour spokesman said the homes it will deliver "represents a drop in the ocean".
Mr Johnson said: "Shared ownership is crucial in helping the unprecedented numbers of people in London desperate for good quality, low cost housing."
'Persistent failure'
A total of £180m is being pledged to a new First Steps Challenge Fund, which is aimed to encourage developers to build housing for sale as shared ownership.
The fund aims to accelerate the delivery of 4,000 new homes up to 2020.
The mayor is also allocating £40m of loan funds to a private finance scheme called Gentoo's Genie to deliver 2,000 new homes over the next 10 years for people who might struggle to save a large deposit for a mortgage.
Mr Johnson has said he aims to help 250,000 Londoners into low cost housing by 2020.
But Labour's London Assembly housing spokesman Tom Copley said: "Over seven years of Boris Johnson's mayoralty vast numbers of people have been locked out of London's housing market as prices have rocketed.
"A major reason for this has been the mayor's persistent failure to build enough homes which are truly affordable.
"The evidence shows we need to build 62,000 homes a year in London but last year fewer than 18,000 were built, many of them priced well beyond what ordinary Londoners can afford," he added.
"Whilst this new scheme is welcome the fact is it will not be fully delivered for another five years and the small number of homes it will deliver represents a drop in the ocean compared with what London is crying out for."