Men jailed over Haringey street shootout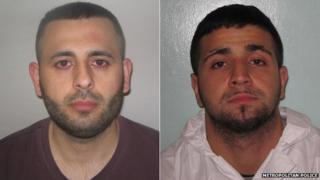 An armed officer who risked his life to protect the public during a shootout in north London has been commended for his "courage and resolve".
The Old Bailey heard Sedat Meric, 25, from Tottenham, fired seven rounds towards the National Crime Agency (NCA) officer, identified only as NC32, after firing at a Haringey pool bar.
Meric and Oktay Ayanoglu, 22, from East Finchley, were jailed earlier.
Judge Michael Topolski said it was "miraculous" no-one had been injured.
'Revenge attack'
Balaclava-wearing Meric fired at West Green Road Pool Bar four times in a revenge attack on 23 May last year before turning his gun on the officer who tried to stop him.
He fired seven rounds towards the officer, who ducked for cover behind a car. Meric only gave himself up after he ran out of bullets.
The moment was captured on CCTV footage.
Last month Meric and Ayanoglu were found guilty of possessing a firearm and ammunition with intent to endanger life.
Meric was sentenced to 15 years and Ayanoglu to 12.
The prosecution said the men had gone to the bar to carry out an "armed revenge attack" following a fight in Tottenham less than 24 hours earlier, involving baseball bats, billiard cues and metal poles.
Commending officer NC32, the judge said: "He displayed all that is most creditable of police officers on whom we trust to put their own safety on the back seat for the protection of all the public.
"He acted with courage and resolve - literally in the face of live rounds being fired at him.
"In my judgment he should not only be thanked but highly commended for his bravery that night."
Meric and Ayanoglu were found not guilty of the attempted murder of NC32, while the group's alleged leader, Bulent Eren, 25, from Liverpool, was cleared of all offences after the jury decided it could not be certain that he was the man who had stayed by the getaway car and fled before he could be apprehended.
Sentencing the men, Judge Topolski said: "This was a pool bar in a busy, densely populated area of north London.
"It is clear there could have been several people injured - or worse."