Anti-violence demo in east London after stabbings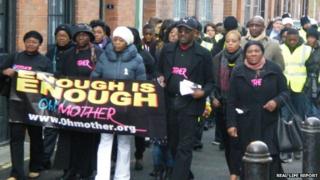 Anti-violence campaigners have held a rally in east London to protest at the number violent deaths of young people in the city.
The march was held in memory of 15-year-old Joel Adesina, from Dagenham, who died after being stabbed in Tower Hamlets on 5 December.
So far this year three teenagers have died in stabbing attacks in London.
During 2014 eight teenagers died after being stabbed in the capital.
The mother and sisters of Joel Adesina took part in the march in Bethnal Green.
'Violent deaths'
Dr Bernadine Idowu, one of the organisers of the rally, said she hoped the event would send a message that people had had enough of violent crime.
She said: "I'm shocked by these crimes. I want to understand what is going on in these people's minds.
"We want to say that we have had enough - we have had enough of all these violent deaths."
Dr Idowu said she hoped in the future to march to Downing Street in an effort to spread the anti-violence message.