Old Kent Road crash: Police probe into 'shots fired' at car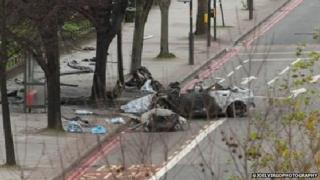 Police are investigating whether a car was shot at before it collided with a tree, killing the driver.
The Black Audi RS4 hit the tree on Old Kent Road near the junction with Albany Road at about 02:27 GMT on Sunday and burst into flames.
The driver, in his 30s, was pronounced dead at the scene.
Scotland Yard said its homicide team was investigating whether holes in the vehicle were "caused by shots being fired at the car" before the crash.
Det Insp Dave Reid said: "One line of enquiry, which we are unable to confirm until those tests are complete, is that the holes were caused by shots being fired at the car."
A post-mortem examination is due to take place later.
Anyone with information is urged to contact the force.