Suspected 'tornado' destroys garage in Harrow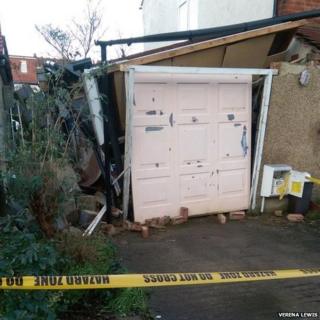 A suspected "tornado" has destroyed a garage in north-west London.
Crews from the London Fire Brigade (LFB) were called to Grafton Road in Harrow at about 13:15 GMT after reports of weather damage.
Firefighters found a single-storey garage, attached to a house, had collapsed and there was minor damage to surrounding homes and cars.
Watch manager Mark Ritson said "the tornado whizzed through the area" blowing off roof tiles.
'Wizard of Oz'
He said: "It was sunny but then the sky went black, there was thunder and lightning, hailstones and strong winds.
"By the time we turned up to the address it was blue sky and sunny again.
"The tornado whizzed through the area, some roof tiles were blown off and caused minor damage to properties and cars in nearby roads but fortunately nobody was injured."
On Twitter LFB tweeted it was like "a scene from the Wizard of Oz".
The owner of the home Carol Grant, who was inside when the "tornado" hit, said she was thankful no-one was hurt.
She said: "I heard a bit of crash and I looked out of the side window and thought that's funny the garage roof doesn't look normal so I called my husband and we looked outside and had a bit of a shock."
Firefighters have urged residents to ensure loose objects like garden furniture and items on balconies are secure, after the Met Office predicted heavy rain and gusts of up to 60mph on Wednesday.
Meteorologist Laura Gilchrist, from the BBC Weather Centre, said the incident would have to be investigated thoroughly to determine whether it was in fact a tornado.
"We wouldn't rule it out in the UK. The numbers vary from year to year. Some years can see as many as 35 tornados," she said.
She added one of the most recent tornados in the capital was in Kensal Rise in 2006.