Third bolt falls off London's 'Cheesegrater' skyscraper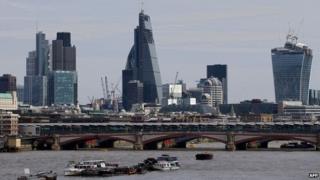 A number of large steel bolts are being replaced on the Cheesegrater skyscraper in London after a third bolt fell off.
British Land said the third bolt fractured and was caught by tethering which had been put in place around the Leadenhall Building.
In a statement, the company said the problem was being rectified.
Last year two bolts fell from the 47-storey building - one fell to the ground and another was contained within the skyscraper.
An investigation by contractor Laing O'Rourke and structural engineers Arup found the problem was limited to certain bolts and there was "no adverse effect on the structural integrity of the building".
As part of the report the broken bolts and additional bolts were tested on site and in a laboratory.
Tests found the bolts had fractured due to a failure in the bolt material mechanism, which usually develops following exposure to hydrogen.
The building, nicknamed the Cheesegrater because of its distinctive sloped shape, is the tallest in the City of London, standing at 734ft (224m).
The frame of the building contains about 3,000 bolts of the type that fell to the ground last year.