Met Police team to tackle London road safety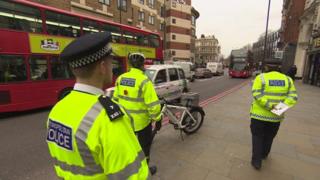 A police team has been created to improve safety and security on London's road and transport networks.
More than 2,300 officers will work with Transport for London (TfL) as part of the Met Police's Roads and Transport Policing Command.
The new command has joined together the work previously done by the MPS Traffic Operational Command Unit and the Safer Transport Command.
The Mayor of London said the team would focus on "public transport safety".
'Fewer crimes'
Officers in the team, which will draw 68% of its funding from TfL, will be responsible for reducing crime, congestion and collisions.
Mayor Boris Johnson said: "Improving roads and public transport safety is one of my top priorities.
"This new command means that for the first time ever we now have a single team focusing on doing just that."
The new body will also take on some duties previously carried out by Borough Operational Command Units.
Cdr Stephen Watson, from the Met Police, said: "The fact that there were over 2,000 fewer victims of crime on the bus network during the last 12 months alone demonstrates the importance and the effectiveness of our work."
The mayor's road safety target aims to reduce the number of people killed or seriously injured on the capital's roads by 40%, - 10,000 casualties - by 2020.