Gordon Ramsay loses court battle over London pub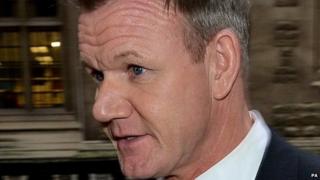 Celebrity chef Gordon Ramsay has lost a High Court battle over being held personally liable for the rent on a London pub he bought.
The pub deal took place when his father-in-law Christopher Hutcheson was working with him to build his restaurant empire.
The chef said his signature had been forged on a document which made him the personal guarantor for the pub's rent.
He had accused Mr Hutcheson of using a ghost writer machine to do this.
'Performing monkey'
The machines are frequently used by authors to sign books and photographs automatically.
Mr Ramsay said the document made him liable for £640,000 annually for the York & Albany pub near Regent's Park, north London.
However, Mr Justice Morgan dismissed as "entirely implausible" Mr Ramsay's claim he did not know the full extent of the use of the ghost machine.
The judge said: "Accordingly, I find that Mr Ramsay knew, long before the entry into the agreement for lease and the lease of the premises, that the machine was routinely used to place his signature on legal documents.
"I do not accept his evidence to the contrary."
He refused to grant a declaration that the rental guarantee was not binding because Mr Ramsay's signature "was not lawfully authorised" when the 25 year lease was signed in 2007.
"I find that when Mr Hutcheson committed Mr Ramsay to the guarantee in the lease of the premises, Mr Hutcheson was acting within the wide general authority conferred on him by Mr Ramsay at all times until Mr Hutcheson's dismissal in October 2010," the judge added.
Mr Ramsay, the star of several food programmes including Ramsay's Kitchen Nightmares, had told the judge he felt "like a performing monkey" while building his multimillion-pound culinary empire, with Mr Hutcheson managing his business.
His wife, Tana, said what had happened had been "extremely distressing". The couple married in 1996 and have four children.
Mr Hutcheson acted as business manager for the Ramsay group of companies until he was sacked in 2010.