Mayor's 'political' policing poster campaign criticised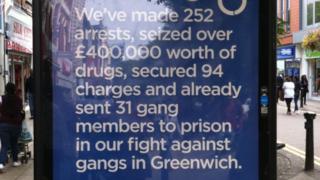 The Mayor of London's policing unit has been criticised for spending £500,000 on a poster campaign praising the Met Police's efforts to tackle crime.
Labour claimed the Mayor's Office for Policing and Crime (MOPAC) funded "political propaganda posters" at a time of severe cuts.
Assembly member Andrew Dismore said the money could have been spent on frontline services.
But London mayor Boris Johnson argued the campaign helped inform the public.
The posters appeared in several London boroughs, including Greenwich.
The posters stated: "We have made 252 arrests, seized over £400,000 worth of drugs, secured 94 charges and already sent 31 gang members to prison in our fight against gangs in Greenwich."
'Drastic cuts'
Earlier this month, deputy mayor for policing Stephen Greenhalgh, said the force was facing "drastic cuts" over the next four years.
Last month, the Met Police commissioner warned urgent reforms were needed to cope with the cuts, including merging of police forces.
Sir Bernard Hogan-Howe said: "There's a bigger risk to public safety if we don't take radical action.
"We've saved hundreds of millions already, but from 2016 onwards it will be much harder."
Mr Dismore said the money spent on the posters would have paid the salaries of 17 extra police officers for a year.
He challenged the Mayor of London on the posters at his monthly question time at City Hall on Wednesday, claiming the public would have more confidence with more officers.
Boris Johnson responded: "It is important to inform the public about what their officers are doing and what is going on in their neighbourhoods."