New intervention plan launched to target gang members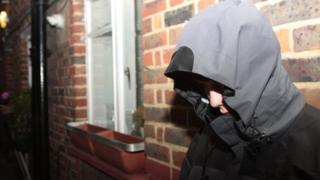 A whole gang could be punished even if only one member has committed a violent crime under a new pilot scheme.
The London Mayor's Office for Policing And Crime (MOPAC) is providing £200,000 funding for the "Shield" pilot, which will be trialled in Haringey, Westminster and Lambeth.
Under the plans, the main offender's prosecution will be fast-tracked and gang members will also face sanctions.
The London mayor said the pilot would give gangs a "clear ultimatum".
However, campaigners questioned whether a blanket approach would work.
Help leaving gangs
Gang members associated with an offender who has committed a serious crime - like a stabbing - will face injunctions preventing them from entering a certain area or, if they are on licence, they will be recalled to prison.
Officers and community members will also call in gang members for face-to-face meetings to issue warnings about their behaviour. In addition, members will be offered help to leave gangs.
The Met's Trident gang crime team will work with the three boroughs for the 12-month pilot.
According to the Met Police, gangs in the capital are still responsible for 40% of all shootings and 20% of all recorded violent crime.
There are 186 gangs in the capital with 58 accounting for two-thirds of offences where a named gang is identified, the police said.
Speaking to BBC London 94.9, Stephen Greenhalgh, deputy mayor for policing and crime, said: "It doesn't mean a gang member of whatever age is going to get the same sanction as the person that is the brains behind the machine that is causing the mayhem.
"The rules are that whole gangs will be chased after by whatever means."
'Who is in a gang?'
The model originated in Boston and has been rolled out in several American cities, while a similar scheme in Glasgow saw youth violence drop by 48%.
Mayor of London Boris Johnson said: "It is time we gave these gang members a clear ultimatum - the police know who you are and if anyone in the gang steps out of line then every member will face consequences."
Prof David Kennedy, from the John Jay College of Criminal Justice in New York, who devised the model which "Shield" is based on, will provide support during the pilot - for which he will receive a maximum of £50,000 fee.
Campaigner Gloria Morrison questioned whether the new pilot could lead to some young people being criminalised.
"How are they deciding who is in a gang?" said Ms Morrison, who is the co-ordinator of the campaign group Joint Enterprise: Not Guilty by Association.
"The idea to put everyone in the same boat because one person has done something is really wrong."