Ayesha Ali death: Wife 'possessed' by lover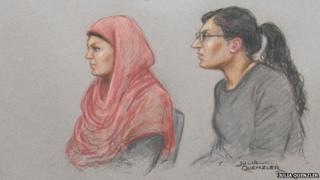 The ex-husband of a woman accused of murdering their eight-year-old daughter has said his wife was possessed by her lesbian lover, a court has heard.
Afsar Ali told the Old Bailey he was happily married to Polly Chowdhury before their neighbour Kiki Muddar moved into their home.
Ms Muddar, 43, and Ms Chowdhury, 35, are accused of murdering Ayesha Ali at a block of flats in Chadwell Heath, east London, on 29 August 2013.
Both women deny the charges.
Mr Ali's daughter, Ayesha, was found dead in her bedroom at the flat with more than 50 injuries to her body, including carpet burns and a bite mark on her shoulder, jurors were told.
The court heard how Ms Muddar and Ms Chowdhury developed a relationship through fictional characters called Jimmy Chowdhury and Skyman, who only existed on Facebook and text messages.
'Horrible lady'
Ms Muddar talked of her hatred of Ayesha in a series of phone calls and text messages and pretended to have cancer, the prosecution said.
Giving evidence for the prosecution, Mr Ali told how he had moved house to get his family away from Ms Muddar after she befriended his wife.
He told jurors: "She would often disagree and she would say 'let's ask Kiki's opinion', what she thinks about certain things, which it really in a way made me a bit angry and upset because it was my family.
"I wanted to get away from Kiki."
After they moved, Ms Muddar came to visit in 2012 and began sleeping in the same bed as his wife, which led to Mr Ali leaving the family home, the court heard.
"I was told Kiki was on high doses of medication and the cancer was getting worse and she needed Polly's help, that she needed our family's help to support her," Mr Ali told the court.
When questioned by prosecutor Richard Whittam QC how he felt about it, Mr Ali said: "I was devastated. I was really, really upset.
"Polly is the type to support people. She's good - a good heart - and she wanted to support her but she wasn't listening to me."
Ms Chowdhury's lawyer Ali Bajwa QC, referring to Mr Ali's witness statement, said: "You say this - 'it was like she was possessed'. Is that true?"
Mr Ali agreed.
The couple met when Mr Ali was serving a jail sentence at Feltham Young Offenders Institute in 2006 and Ms Chowdhury was working in administration for a firm of solicitors, the jury heard.
Both had experienced unhappy arranged marriages and he helped her run away with him. In 2001, they had an Islamic marriage, but after Ms Muddar moved in, he moved out on 13 December 2012, which was Ayesha's birthday.
Ms Muddar, of Green Lane, Ilford, Essex, and Ms Chowdhury, of Broomfield Road, Chadwell Heath, Romford, deny murder, manslaughter and causing or allowing the death of a child between 1 March and 29 August 2013.
The trial continues.