Old Kent Road crash: No foul play in 'shooting car crash'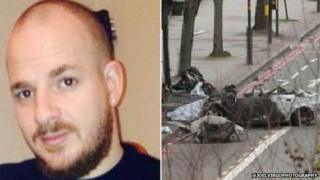 Police investigating whether a man found dead in a burning car was shot at in the moments before he crashed have found no evidence of foul play.
Michael Paxman, 32, died after crashing on the Old Kent Road, south east London at about 02:20 GMT on 11 January.
The Met said eye witness accounts and CCTV showed no altercation had taken place prior to the crash and Mr Paxman was not being followed at the time.
Two holes in his black Audi RS4 were not bullet holes, police added.
Det Insp Dave Reid said: "A number of people rushed to try and help Michael at the time his car was in collision with the bus stop and caught on fire. Those were brave attempts to help."
A post-mortem examination was unable to determine a cause of death.