Job loss fears over Wandsworth and Richmond 'council merger'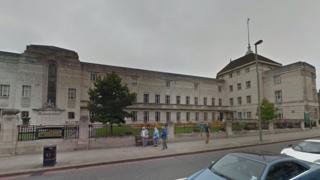 A union has said it is concerned plans for two London councils to merge could lead to "massive job losses".
Wandsworth and Richmond councils, in south-west London, have proposed sharing roles by 2017 to save £20m.
But Paul Grafton from the GMB union, said he was "very concerned" jobs would be lost, while Labour's Leonie Cooper said she was "sceptical" the plans would go ahead.
The proposals will be considered at future meetings.
In a joint statement, the two Conservative-led councils, said: "Initially the focus would be on merging management structures - reducing duplication, and the proportion of spending that goes on senior management.
"In the longer term, there would be opportunities for further savings to reduce overheads. For example, getting better deals from suppliers."
Under the proposals the two councils would be managed by Paul Martin, Wandsworth's current chief executive, once Gillian Norton, Richmond's chief executive, retires in 2016.
But Ms Copper, deputy leader of Wandsworth Council's Labour party, said: "My first thought is why is Wandsworth arriving at this party so late because other councils have already set this up and our two previous attempts have ended up not happening. I'm pretty sceptical.
"If you really want to save then we should be looking at councils that are close to us, our biggest boarder is with Merton and we have a joint seat on the London Assembly so why are we only talking to Richmond?"
The councils said the plans for a "shared staffing arrangement" would help make savings and preserve frontline services.
It added that Wandsworth and Richmond councils would continue to be separate sovereign bodies with their own elected councillors, cabinets and leaders.
Mr Grafton said the GMB would be meeting with members in both boroughs imminently to "assess where we go on this".