Frontline: Emergency health workers caring for Londoners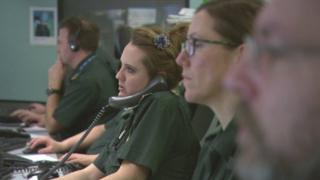 Frontline NHS staff in London are facing unprecedented pressure this winter, according to GP clinics and pharmacies in the capital.
The number of paramedics leaving the profession in London has almost trebled in the last three years and the ambulance service is taking more calls than ever before in its history.
In a series on London healthcare, BBC London political correspondent Karl Mercer has been spending time with healthcare workers on the frontline to see how they are coping with the strain.
Medical advice
NHS staff at 111 centres, GP clinics and pharmacies are usually the first port of call for people with health concerns.
Dr Tim Ladbrooke, from a 111 centre in west London, said: "The week before Christmas was 175% busier than any week we'd ever had before."
Emergency response
Members of the public have been reminded this year only to call 999 if someone is seriously ill or injured, and their life is at risk.
On its busiest days London Ambulance Service is handling almost 6,000 calls.
A&E
Once people arrive at hospital, they can face long waits.
Most of London's 22 emergency units are struggling to hit the target of treating patients within four hours, according to NHS figures.
Staff at the A&E at St George's Hospital in Tooting described the pressures.
Recovery
Hospitals are under increasing pressure to solve underlying health and care problems faced by elderly patients.
A scheme in Croydon, south London, is an example of attempts to try to help prevent older people ending up in hospital in the first place.