Man admits Greenwich petrol station arson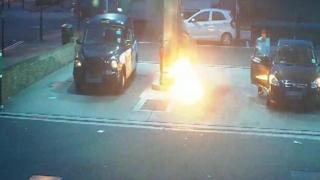 A man has pleaded guilty to arson following a fire at a petrol station in south-east London.
Daniel Mulligan, 24, of Davenant Road, Islington, admitted starting the fire at the BP petrol station in Trafalgar Road, Greenwich, on 30 September.
A member of the public had to put out the flames with a fire extinguisher.
Mulligan pleaded guilty at Woolwich Crown Court on 27 January and was held under section 37 of the Mental Health Act.
CCTV footage of the incident showed the arsonist walking up to a pump at about 06:30 GMT before squirting fuel on the floor.
He then placed an item in the pump before setting it alight and running off.