Metropolitan Police launch Polish Twitter account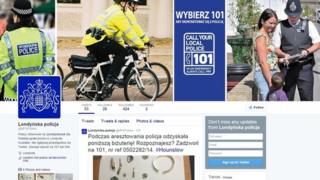 The Metropolitan Police has launched a new Twitter account in Polish.
The @MPSPolska account will be trialled in Hounslow and Ealing and will translate messages and appeals to the Polish community in London.
PC Magdalena Rosiak, who came up with the idea, said it was an opportunity to overcome "language barriers".
Polish is the second most spoken language in the UK, with over half a million people using it as their first language according to the 2011 census.
Ms Rosiak said: "Social media is a fantastic way to bring policing closer to the communities we serve.
"Of course I can't physically talk to every Polish speaker in London, but through the new services everyone can stay fully informed about what is going on."
Agnieszka Miedzinska, who runs a Polish school at the Kingsley Academy in Hounslow, west London, said: "There is a need because the image of the police in Poland is if any crime happens we don't have the impression that they can be your friends and you can speak to them about any problem."