Cigarette row killer Kai Steele given 18 years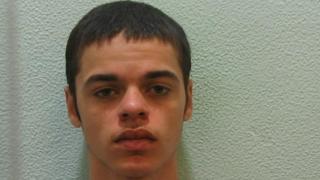 A teenager who stabbed a man to death during an argument sparked by a row over a cigarette has been detained for at least 18 years.
Kai Steele, 18, from Charlton, murdered 26-year-old Alex Scott in an alleyway in south-east London last August.
The Old Bailey heard Mr Scott was stabbed twice in the chest after he threw the first punch during the fight.
The judge said it was another example of the "unjustified" consequences of teenagers carrying knives.
Steele, who was 17 at the time of the murder, was detained indefinitely at Her Majesty's pleasure and has been sent to a young offenders institution.
The court heard Mr Scott was with friends outside an off-licence in Eltham Road when a group which included Steele approached them and a fight ensued.
Twenty seconds after Mr Scott threw the first punch, Steele launched forward and stabbed him twice; once in the aorta and again in the heart.
Judge Timothy Pontius said: "This is yet another example of an utterly needless and unjustified waste of a human life resulting from a senseless decision by a teenage boy to put a knife in his pocket before leaving home.
"As is so often the case, that knife was not taken out with any intention in the defendant's mind to use it to cause anyone serious injury, still less to kill.
"This murder was neither planned nor premeditated but arose, as so often the case in the context of street violence, in a matter of moments.
"That fact makes it all the more tragic that a human life was lost simply because a knife was needlessly carried, and so what would have begun and ended with the trading of a few punches instead led to a murder."
An impact statement from Mr Scott's mother, Rachel Van Dyke, said: "His death was totally unnecessary and I know nothing is ever going to bring Alex back.
"The only thing I can hope for now is the person responsible gets their just desserts."
Steele has a series of past convictions for violent crimes, including muggings, dating back to when he was 12 or 13 years old.
His co-defendant Dillon Beckford, 18, of Lee High Road, was acquitted of murder last week on the direction of Judge Pontius.